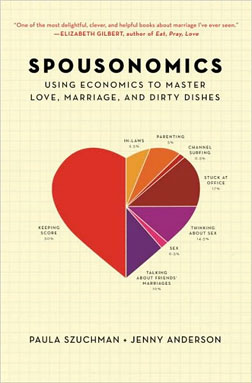 As Eric knows all too well, since grad school I have picked up the endearing/annoying habit of dropping economics-talk into our everyday life. I am prone to saying things like "It's a sunk cost! Let it go!" or "Really, we just have a problem of asymmetric information here." Charming, right? I think so. I can't speak for him.
Well, this book that just came out--Spousonomics--sounds right up my alley as it talks about how economic principles apply in marriage. So I checked out their blog and there are two lovely things on there that I think you will enjoy.
The first is about how to
make your marriage more Pareto efficient
-brilliant! Now to move toward Pareto efficiency you have to do something that makes someone happier without making anyone else any worse off. When you get to Pareto efficiency, you cannot change anything without making someone worse off. Now, Pareto efficiency is pretty hard to achieve in real life but if we are a properly operating market we should be moving towards it. An incredibly useful concept in relationship: How can I make you happier without making myself any less happy? (We should even sometimes do things that make us less happy, but let's start with the Pareto efficient things, right?)
The second one, maybe I missed this day in Econ class cause I don't know what economic concept it applies to, but its a list: "
Things I Don't Always Want to Do But Never Regret Having Done
." I am notorious for failing to floss (or any other such thing) because I
never
feel like flossing
right nowwww
, despite the fact that every time I show up at the dentist I really wish I would have flossed more. Yes, in case you were wondering, I still have the mindset of a 9 year old when it comes to these sorts of things.
I am going to try to make these lists for myself and post them on my walls or something. Yay economics.
Oh they have a cute series called Economists in Love on this blog too. It's like finding out what all of my professors are like in real life.